Microsoft Teams App Supports Attendee Limit Up To 300 During Meeting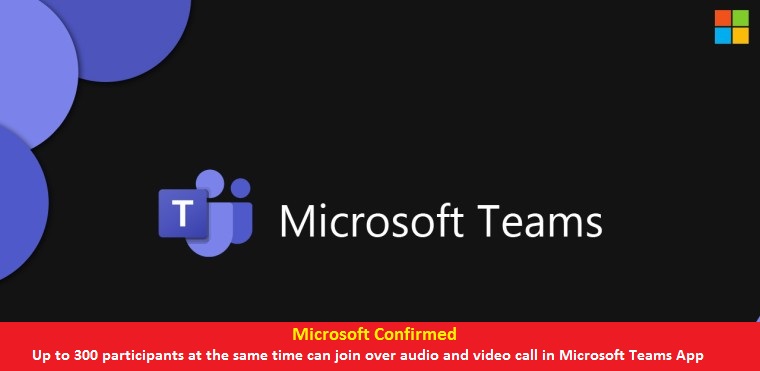 According to report, Microsoft (American Multinational Company) had planned to increase the "Microsoft Teams App" meeting attendee limit to 250 – 300 participants this month. Finally, the company has confirmed "Teams" App can now host up to 300 participants during audio and video conferencing. Let's take have a look at company statements on this matter.
"To help customers meet rapidly changing communication and meeting needs, we are increasing the maximum number of participants allowed in a Teams meeting to 300"

Microsoft explained that they were acknowledged some users have been complaining that having nine (3X3 grid) participants visible is not sufficient for hosting online and requested for increasing the number of participants for online meetings. However, the company had planned to increase attendee limits from 250 to 300.
The change is already shown in Microsoft Teams' updated technical documentation while the participant limit is still 250 for Microsoft Teams for Government. The government cloud attendee limits will extend from 250 to 300 with further update its documentation.
Other Microsoft plans
Up to 300 participants can join meeting together in Microsoft Teams app that can help the people to use its remote commutation and video-calling services for personal use. Microsoft has already announced "Personal version of Teams" and these features are now available in "Preview for Android and iOS devices"
On other hand, Microsoft has also planned to roll out its expanded grid view to production with new Multi-Window experience this month. It is expected to full availability by end of August. We are researching on the matter very deeply and we will defiantly post an update if it will come in future. If you have any suggestions or queries, please write on comment box given below.
You may also read: Windows 10 Update: Microsoft Released First Windows 10 21H1 Preview Build