These laptops show BSOD with Windows 10 update
Certain Lenovo devices have experienced blue screen of death and a host of other issues when users download the Windows patch released last month. This update was a part of the August 2020 cumulative update for Windows 10, version 2004.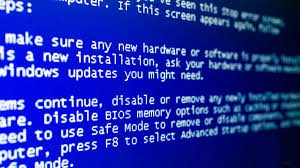 Users noticed one or more issues from following after installing the Windows 10 update to their devices:
Blue Screen of Death (BSoD) when booting
Blue Screen of Death (BSoD) when starting Lenovo Vantage
Blue Screen of Death (BSoD) when running Windows Defender Scan
Can't log in by Face with Windows Hello
Errors in Device Manager related to Intel Management Engine
Errors in Device Manager related to IR Camera
According to Lenovo, The BSoDs occur when booting, starting the Lenovo Vantage for updating drivers or when running a Windows Defender scan.
Some users reported the problem with login in using Windows Hello Face authentication, while others note error in Device Manager that are related to the Intel Management Engine CPU subsystem and the infrared camera with this faulty patch.
As per manufacturer, these issues have observed not on all Lenovo devices. Only the devices that include ThinkPad models from 2019 and 2020 using Windows 10 show these issues. For you are using the ThinkPad 2019 or 2020 with Windows 10 and are facing any of these issues with the faulty patch update, you should disable the enhanced Windows Biometric Security settings in BIOS setup. Here are the required steps for this:
Open the ThinkPad's BIOS/UEFI settings
Click on Security > Virtualization
You will find the option Enhanced Windows Biometric Security right there.
 At current, no official patch is available for this issue.