Microsoft Working Toward Resolving Windows Sandbox & WDAG known Issue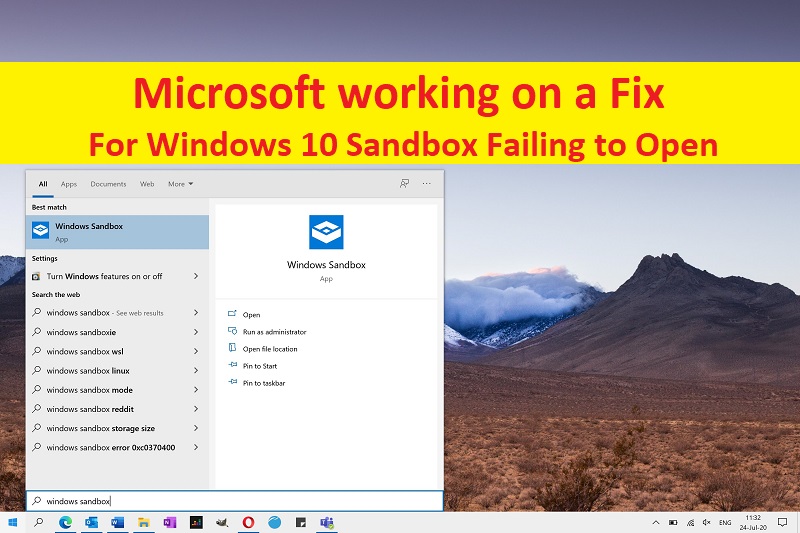 According to report, Microsoft (American Multinational Company) is currently working toward resolving the known issue under investigation. We are talking about "Windows Sandbox" and "Windows Defender Application Guard (WDAG)" which prevent Windows 10 devices from opening it.
What is "Windows Sandbox"?
"Windows Sandbox" provides a lightweight desktop environment to safely run the applications in the isolation. Software installed side the "Windows Sandbox" environment remains "Sandboxed" and run separately from host machine. A "Sandbox" is temporary. When it is closed, all the application and files and the state are deleted.
What is "Windows Defender Application Guard (WDAG)"?
"Windows Defender Application Guard" is designed to help prevent old and newly emerging attacks to help keep employees productive. It is designed for Windows 10 and Microsoft Edge that helps to isolate enterprise-defined untrusted sites, protecting your company while your employees browse the internet. "Application Guard" has been created to target several types of System including Enterprise desktops, Enterprise mobile laptops, bring your own device (BYOD) mobile laptops and Persian devices as well.
Problem: "Windows Sandbox" and "Windows Defender Application Guard (WDAG)" fails to open on Windows 10
Now comes to matter, many Windows 10 users have already reported about this problem on various online platforms including Microsoft Official forum site and other popular platforms, and asked for the solution. These two applications throw the follow error after failing to starts on Windows 10 device.
"ERROR_VSMB_SAVED_STATE_FILE_NOT_FOUND (0xC0370400)"
"E_PATHNOTFOUND (0x80070003)"
Furthermore, users who can't open WDAG or Windows Sandbox application can mitigate the issue after seeing one of above error message by restarting their Windows 10 devices. After restarting, the two apps should launch without any problems according to Microsoft's Support document.
Microsoft Company stated that their teams has acknowledged this known issue and working towards resolving, with a fix to be provided as part of future release. The company has described about this known issue on "Windows 10 Health Dashboard" that:
"Windows Sandbox may fail to start with 'ERROR_FILE_NOT_FOUND (0x80070002)' on devices in which the operating system language is changed during the update process when installing Windows 10, version 1903."
We are researching on the matter very deeply and we will defiantly post an update, if it will come in future. If you have any suggestions or queries regarding this known issue under investigation, please write on comment box given below.
You may also read: Microsoft releases cumulative update to fix File Explorer and LTE issues